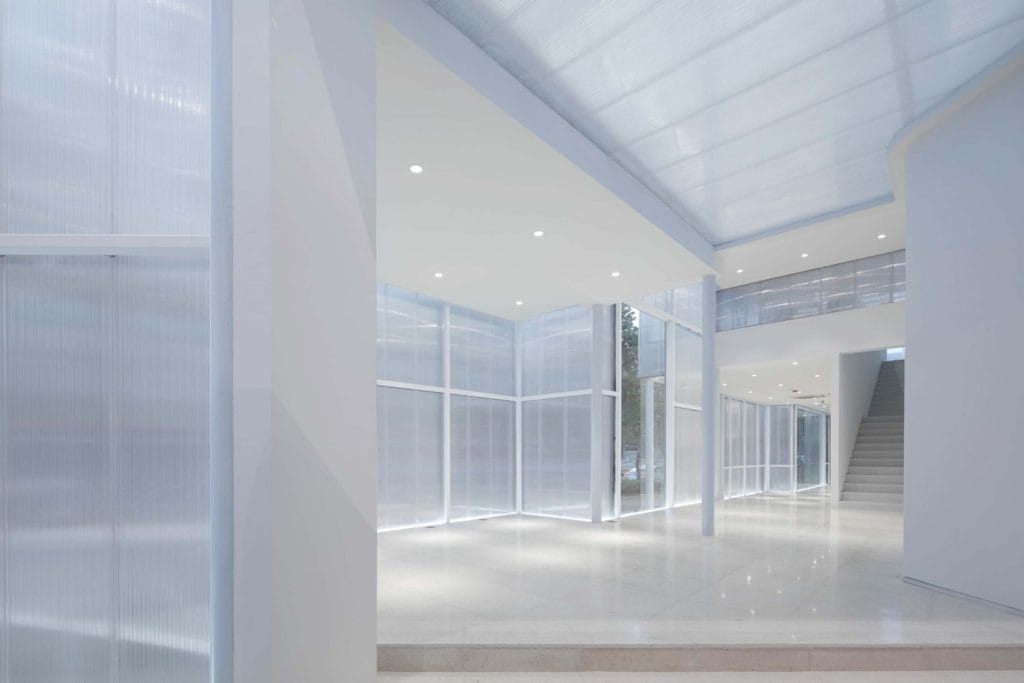 Lightweight and Durable
Polycarbonate walls are very lightweight, so it's always easy to stack them up, carry or install them anywhere you like. Along with that, they are highly durable, which means they remain unbreakable and can withstand large amounts of pressure. So you don't have to worry about the sheets breaking in extreme weather conditions or as a result of high impact; they will remain intact for years to come. It's longevity, very high impact resistance and being virtually unbreakable are vital reasons why they are preferred over glass or any other similar material that gives such an elegant look.
Heat Protection and Light Transmission
Polycarbonate walls provide maximum protection of 99% from UV rays that can be harmful to you. Even though they can transmit up to 90%* of the natural healthy light using Durapoll series or up to 80%* with Multipoll & Contiroof series, 55% for Contiwall series. Thermal insulated polycarbonate walls can retain the heat and prevents it from escaping in the Winter and vice-versa in Summer. This way, your house or commercial property stays lit the majority of the time with light that's healthy and cozy.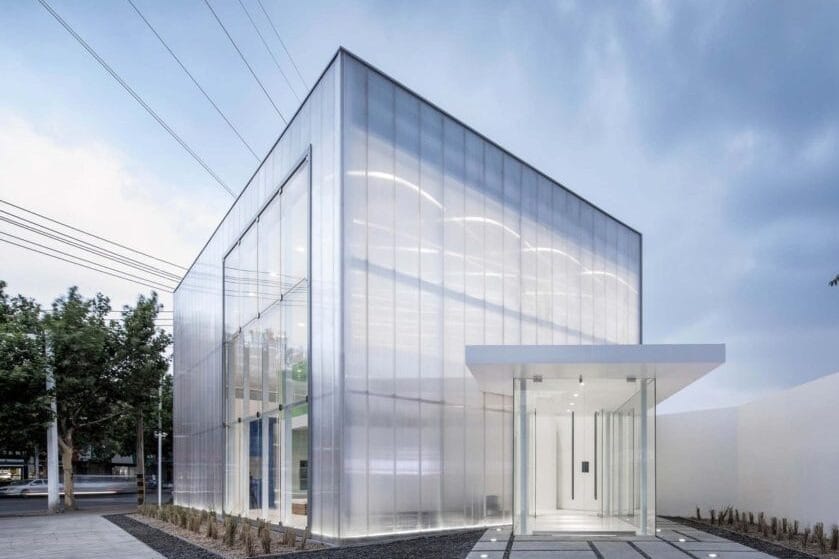 Frequently asked questions
1.   Can polycarbonate panels be used for walls?
Yes, polycarbonate sheets can very easily be used for walls because they are durable and can be textured, tinted, or designed according to your requirements. They can very conveniently fit in any exterior or interior space and provide just the right kind of support and aesthetic that you need. They can also be used for greenhouses, homes, or any other kind of building that requires visual appeal along with functionality.
–
2.     Is it difficult to install polycarbonate?
The multi-walled polycarbonate sheets are generally easy to install. Having that said, for most applications DOMER have pre-engineered systems inclusive of all related profiles, gaskets and accessories which makes it very easy and safe to install.
–
3.     Are polycarbonate walls expensive?
Investing in polycarbonate walls is a one-time investment that you can reap the benefits of for years to come. Polycarbonate is lightweight and surprisingly stronger than any other similar material, while can be very cost effective and mostly cheaper than glass.
–
4.     Do polycarbonate walls look like glass walls?
Polycarbonate walls can give the impression of glass walls but with a better durability and safety. They are transparent and have a similar aesthetic appeal as glass walls.
–
5.     How long do polycarbonate sheets last?
Polycarbonate sheets or walls can easily last for decades if they are taken care of. Domer polycarbonates have an extended lifespan which you won't find in any other material because polycarbonate multi-layered walls are very strong and impact-resistant, so they remain unscathed for years.
–
6.     Does polycarbonate get scratched or turn yellow over time?
Domer can produce UV Stabilized polycarbonate sheets with UV protective co-extruded reflective film to add up very long life span without yellowing and color fading effect. QUV ageing acceleration lab tests are available upon request from Domer technical team
–
7.     Is it safe to have polycarbonate walls?
Polycarbonate walls are very safe to have because they are not just durable and really strong but also virtually unbreakable, which makes them an appropriate material to be used inside or outside your residential, commercial, or industrial space.
–
8.     Do polycarbonate sheets cause your place to heat up fast?
Polycarbonate sheets are designed in a way that prevents them from heating up the structure of your place while distributing the sunlight evenly; this is because they are great insulators and keep the temperature bearable year round, so you don't have to worry about being extra hot or cold due to polycarbonate walls. It also gives adequate protection from harmful UV rays that are always a risk when glass is used.
–
9.     Are polycarbonate walls hard to maintain?
A quick and easy clean periodically will keep polycarbonate walls in their top shape. So they are not hard to maintain; in fact, it is easy to keep them clean and look good.
–
10.     How do you choose the perfect Polycarbonate Multi-Wall Sheets?
Polycarbonate sheets come in different sizes, thicknesses, textures, colors and structures and give you a lot of room to work with. They can easily fit in any part of your project and give it a look that you want while keeping functionality. However, without choosing the right polycarbonate wall supplier, you might be risking your money. This is why Domer brings to you highly durable, supreme quality, tried, and tested customizable polycarbonate sheets that can be used for your walls without hassle.
 
We take into consideration all the factors to design your polycarbonate walls; from climate conditions to desirable size and thickness, heat insulation values, light transmission, and other related specs, we have got it covered!
–
For more information, contact Domer now!