Domer Lumina Tunnel is energy saving sunlight tunnel system engineered to capture the natural daylight through innovative diamond shaped UV resistant thermoformed polycarbonate and directing the healthy solar rays into special highly reflective solar tube to provide cozy and natural defused light without transferring the outside heat/cold temperature.
Domer Lumina Tunnel is suitable for majority types of building systems and its unique fixing details guarantee an excellent sealing against water, dust and air infiltration. One of its great advantage of this solar tube is that can bring natural light to spaces that previously was impossible to illuminate as bathrooms, corridors etc.
This ecological system is compatible with all type of roofing system and has a variety of accessories to provide to the client the exact quality amount of light and saving energy.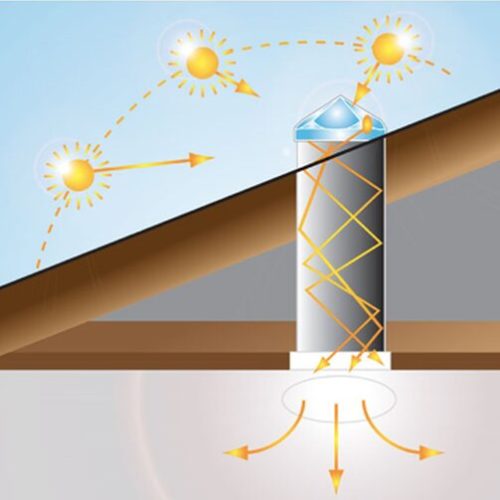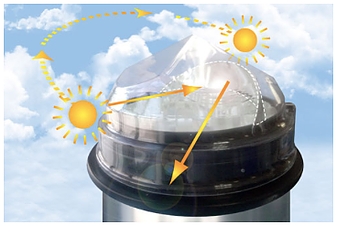 MAX LIGHT TECHNOLOGY
Max Light technology is suitable for regions with low solar radiation increasing the capture of natural light when is most needed directing into the building.

The extra accessory, engineered studied mirror allows to capture the sunlight when the sun is low, specially in winter solstice, and at sunrise and sunset allowing the daylight going inside the building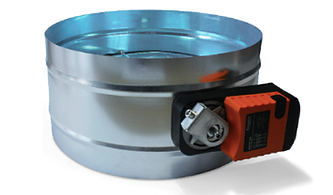 DIMMER
Dimmer entry of light with remote control infrared or via internet allows  in certain situations that require less input light, regulate the amount of light that is output to the space to be illuminated.

You can adjust the registration motor fitted, allowing you to turn on or off the electric or solar light.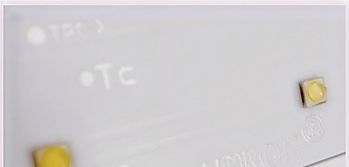 In-LED

The electric lighting kit allows you to adjust light bulbs of low consumption in the solar diffuser mirror, for operation during the night periods.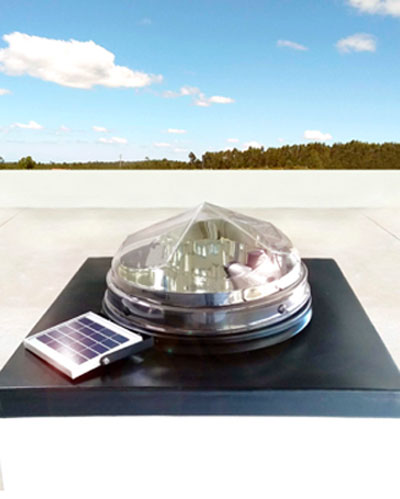 Domer Lumina In-LED Solar Tunnel
Domer Lumina InLED Tunnel solar kit is designed to perform during the day time capturing and providing daylight into the building to be illuminated also during the night, the Domer InLED kit inclusive of photovoltaic panel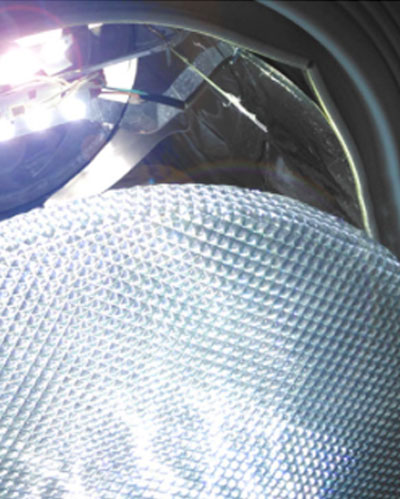 Domer Lumina In-LED Tunnel
Domer Lumina In-LEDTunnel is a LED integration to the Domer Lumina Tunnel allowing efficient light 24 hours a day. LED lights up to compensate the reduction of sun light in order to always keep the same level of illumination into the space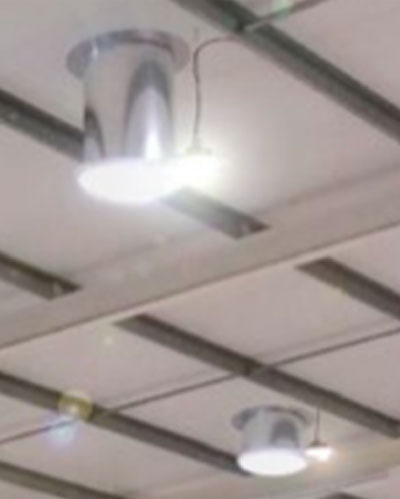 Domer Lumina AllDay Tunnel
Domer Lumina AllDay Tunnel maximise the use of natural light including industrial LED lighting complement, completely integrated in the system in order to provide 24 hours light to the space